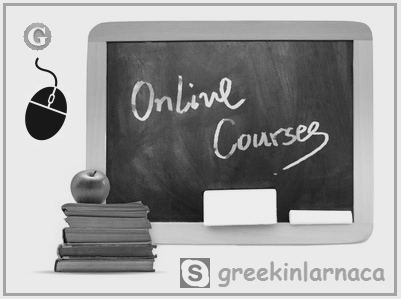 Now online! Greek lessons and courses in Cyprus by Learn4Good Larnaca! Learn4Good Larnaca will now be closer to its students than ever. Most importantly, travels and obligations out of Cyprus will not constitute obstacles any more and students can continue studying the Greek language with Learn4Good Larnaca. The Greek lessons or courses can only be individual and are adressed exlusively to adult students. All Interested students should send in the appropriate registration form with all the necessary information provided to Learn4Good Larnaca. Please fill this REGISTRATION FORM and send it to: greekinlarnaca@hotmail.com We take your privacy seriously. Any personal information you submit to Learn4Good Larnaca remains private and secure.
Online Greek lessons and courses are ideal for all foreign speaking adults living abroad who are planning to visit Greece or Cyprus, especially for Greek and Cypriot expatriates. Also for people living in one of the towns of Cyprus, where Learn4Good Larnaca doesn't have offices. The timetable is arranged after negotiation between the tutors and the student. Materials are sent via email to the student in PDF files sometime before the lesson and live communication with one of our tutors is achieved with Skype.
Fees are paid in advance with the world's most trusted sytem, PayPal in Euros:
For Intermediate and Advanced Creek Courses the fees are not available here and they can be discussed between the tutor and the student.
Our Skype Name is: "greekinlarnaca" . Please go to "Contacts" and contact directly our Skype Name!
Please contact us and discuss with us the details of your lessons before you make your payment! Learn4Good Larnaca doesn't accept payments by people under 18 years old.